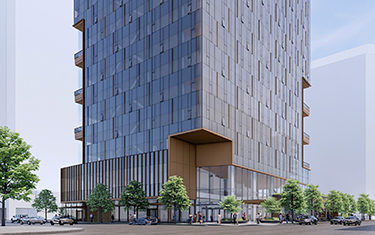 ZGF-designed Bellevue office tower heads into design review
By BRIAN MILLER
Real Estate Editor
The new tower will be a few steps from the downtown light rail station, and close to several Amazon-filled offices.
A little more than a year ago, Clarion Partners paid over $53 million for the old seven-story WaFd building at 400 108th Ave. N.E. in downtown Bellevue. That will be demolished. With partner KG Investment Properties and ZGF Architects, the proposed new replacement office tower recently entered design review.
The updated proposal looks like this: 18 stories, about 300,000 square feet of offices, 10,800 square feet of retail and eight levels of underground parking with 637 stalls. The design features some very pronounced notches in its corners.
For now, the working title for the project is simply 400 108th. The developers hope to break ground in the first quarter of next year, with completion in late 2024. The project will target LEED gold certification.
The team also includes Navix, civil engineer; Site Workshop, landscape architect; KPFF, structural; Glumac, MEP engineer; Fortune Shepler Saling, elevators; Bush, Roed & Hitchings, surveyor; and Hart Crowser, geotechnical engineer. No general contractor is indicated yet.
PSBJ has reported that Broderick Group is the office broker. Broderick doesn't list the project in its most recent Eastside office report. The project is one of many in downtown Bellevue intended to attract Amazon as a tenant.
The old building to be demolished, aka First Mutual Center, dates to 1968. The 1-acre corner site, at Northeast Fourth Street, is a few steps south from the future Bellevue Downtown Station, where light rail service will begin in 2023.
The new tower would be about 300 feet tall. Office floor plates, starting on the third floor, would average 18,000 to 19,000 square feet. Some office floors would have terraces. Parking would be accessed from 108th. A ground-floor bike room would have 100 stalls.
A plaza on the southeast corner of the site, at Fourth, would have about 4,400 square feet. A diagonal lobby would be oriented to meet the block's existing pedestrian connector, leading northeast to City Center Plaza and Northeast Sixth Street — which the current Bellevue Transit Center and future light rail station are. The retail is divided into a half-dozen bays at the ground level; the second floor would have a gym, conference center, etc.
Clarion, of New York, recently paid over $314 million for a majority stake in a portfolio of Eastlake life science buildings owned by Alexandria Real Estate Equities. KG, of Bellevue, last fall earned NAIOP honors for Retail Development of the Year for its Wilburton Village/Bellevue South — home to Target and PCC.