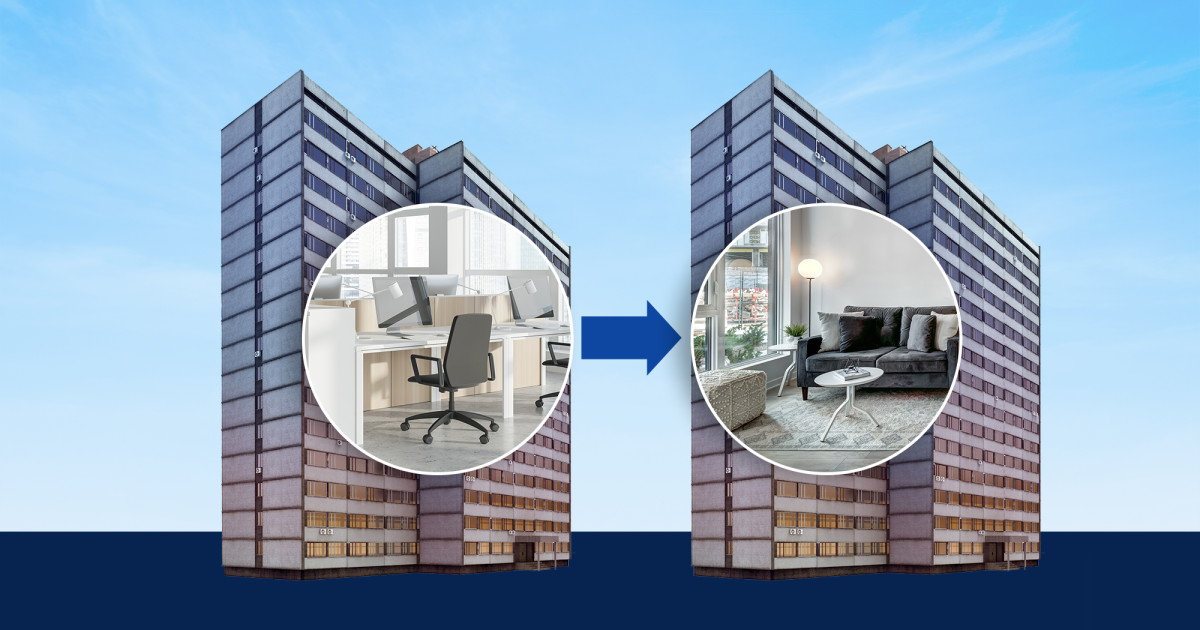 White House unveils office-to-residential conversion that could unlock billions for projects
By Ashley Fahey
The Biden administration is unrolling new guidelines on how federal programs and funding can be leveraged to convert vacant office properties into other uses, chiefly residential.
The White House on Oct. 27 unveiled the series of measures aimed at making it easier for building owners to convert their properties, with a special emphasis on projects that reduce a building's carbon emissions.
Some of those guidelines could give developers the ability to leverage billions of federal dollars to make conversion projects a reality in downtowns, rural main streets and other areas across the nation.
Among the actions being taken:
New guidance from the Department of Transportation on how the Transportation Infrastructure Finance and Innovation Act and Railroad Rehabilitation & Improvement Financing programs can be used to finance housing development near transportation, including conversions. DOT is also issuing guidance intended to make it easier for transit agencies to repurpose properties for transit-oriented development and affordable-housing projects, including conversions near transit. Those programs have more than $35 billion combined in available lending capacity.
The Department of Housing and Urban Development is releasing updated guidance on how its Community Development Block Grant fund can be used to boost housing supply. That includes acquiring, rehabbing and converting commercial properties to residential uses and mixed-use development. HUD is also accepting applications for the $85 million Pathways to Removing Obstacles to Housing program, which includes the development of adaptive reuse strategies and the financing of conversions as eligible activities.
The General Services Administration is planning to expand its Good Neighbor Program as a way to promote the sale of surplus federal properties that may be ideal for redevelopment into residential use.
The federal government also is releasing a guidebook with information on how 20-plus federal programs can be used to support conversions. The White House says it plans to host workshops this fall for local and state governments, real estate developers, owners, builders, and lenders on how to use federal programs for commercial-to-residential conversions.
DOT, the Department of Energy and U.S. Treasury additionally are providing information and technical assistance for groups interested in leveraging their programs to finance conversions. For example, DOE's toolkit gives examples of how the federal Inflation Reduction Act can finance conversions through its loans, guarantee programs and tax incentives.
The White House in a statement said it is encouraging state, local, tribal and territorial entities to identify public tools and land-disposition opportunities to facilitate conversions and also encouraged the private sector to figure out how to build capacity for conversions.
The National Association of Counties is seeking to help counties looking to support conversions of commercial properties to residential use in their jurisdictions. It will identify counties actively pursuing projects and will hold a series of listening and informational sessions.
The American Planning Association, the Lincoln Institute of Land Policy and Harvard University Graduate School of Design also will work alongside planning directors of the 30 largest U.S. cities to figure out new programs on commercial-to-residential conversions.
Conversions are a challenging undertaking
The White House's announcement comes at a critical time for cities and municipalities facing a mounting problem.
The U.S. office vacancy rate grew to 20.1% in the third quarter, according to Jones Lang LaSalle Inc. Sublease space continues to rise, growing by 3 million square feet on a quarterly basis in Q3, according to JLL. Meanwhile, absorption remains negative, with more space being vacated than leased. Net absorption nationally in the third quarter was -20.8 million square feet, according to Cushman & Wakefield plc.
With $1.9 trillion in commercial real estate debt maturing in the next four years, it's inevitable more buildings — especially, but not exclusively, dated office towers — will go into foreclosure or, at minimum, face challenges at refinancing. As office buildings and other commercial properties see their values slashed, the cuts are expected to extend to the coffers of local governments reliant on those property taxes as a key revenue source.
But converting office building into other uses, such as residential units, is a tricky, expensive and complicated endeavor.
A working paper by the National Bureau of Economic Research estimates about 15% of office buildings in commercial districts of the 105 largest U.S. cities are physically suitable for conversions. But that share decreases to 11% when eliminating properties that have a substantial share of long-term tenants in place and buildings considered relatively clean.
The commercial real estate market has been largely frozen this year, as interest rates and constrained capital markets have made building sales of most commercial property types difficult to achieve. The NBER paper indicates conversions from office space to residential are feasible if office towers change hands at their new fair-market values.
"Since the latter values are substantially depressed from pre-pandemic valuations, inducing existing building owners to sell at such reduced prices is likely to be a challenge," the researchers wrote. "Due to the negative externalities associated with suboptimal use, there is a rationale for policy intervention to encourage such conversions."
The paper identified several federal sources that could be leveraged for office conversions, including the U.S. Environmental Protection Agency's $27 billion Greenhouse Gas Reduction Act, which needs to be spent by September 2024.
Originally posted on the Puget Sound Business Journal. https://www.bizjournals.com/seattle/news/2023/10/30/white-house-guidance-office-residential-conversion.html