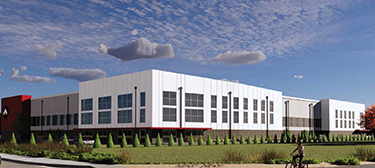 Lift and KG plan new Kent industrial building
Lift Partners paid $10.3 million last year for the over 8-acre KOA campground at 5801 S. 212th St. in Kent. With local partner KG Investment Properties, there's a plan for a nearly 100,000-square-foot industrial building, which originated last summer — not long after the land deal. The city just issued a mitigated SEPA determination of non-significance for the project.
Barghausen Consulting Engineers is the civil engineer. KG indicates in its SEPA filings that it hopes to break ground this spring or summer. Nelson Worldwide is the architect; no general contractor is indicated.
NAI Puget Sound Properties is representing the space for what it calls Lift Logistics 212th. It rates the building at 103,607 square feet, with a 2-acre yard and parking lot. About 133 vehicular stalls are indicated.
The building would have a 40-foot clear height, with 60 dock-high doors. Skylights and LED lighting would provide illumination.
The individual brokers are Connor Powell, Jeff Forsberg, and Arie Salomon. Their listing targets the fourth quarter of 2022 for what appears to be a build-to-suit project.
The KOA campground is just east of the Green River and Russell Road. It also connects to the Green River Trail, and borders the Green River Natural Resources Area, a wetlands to the south. Thus, says KG, the plan includes 110-foot buffer area.
Originally published on djc.com.